Author/Illustrator Suzanne Bloom Reveals What Makes a Great Picture Book and Tells the Story Behind Its New Title Zack and Ike are exactly alike.
Author and illustrator Suzanne Bloom is an award-winning creator of books for younger readers. With pastel and watercolor artwork and simple, accessible stories, Suzanne's charming books depict fundamental moments from childhood and are a perfect choice for story time or for emerging readers. Here, Suzanne talks about her career in the world of children's books and her new title, Zack and Ike are exactly alikewhich will be published by Astra Young Readers in June.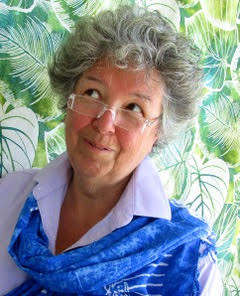 How did you get your start in children's books?
According to my 6th grade autobiography, I wanted to write and illustrate children's books. I'm not sure I thought it was a real job. But I was in love with Garth William Mr Dog (Margaret Wise Brown) and Joan Walsh Anglund Golden Treasure of Poetry (Louis Untermeyer).
After art school at Cooper Union, I was a freelance architectural renderer. Then I designed and made wooden toys. And looked for a story.
Finally, half a lifetime ago, a preschooler sang a song to me that included a line about keeping a pig in the living room. Its potential became clear when, at my friend's farm, in her little barn, I saw a pig jump out of the window. The seeds have been sown. Because I had no idea what I was doing, I kept knocking on doors until after two years of rejection (electronic submissions were a thing of the future), Clarkson Potter's Shirley Wohl saw some potential. And after what felt like 302 rewrites, We keep a pig in the living room was a book. Although Potter has published another of my books, A family for Jamieit took a long time for me to connect with Boyds Mills Press (now Astra Young Readers, part of Astra Books for Young Readers) and found a publisher. It still doesn't look like a real job.
All of your children's picture books uniquely capture essential and common childhood moments, and many of your books provide opportunities for social-emotional learning. Why do you think it is important to write about these topics?
Life is big for little people, and sometimes overwhelming. Building an emotional vocabulary can help name and claim those feelings.
My characters Goose, Bear and Little Fox respond to each other with a lot of emotions: annoyance, frustration, anger, exasperation, comfort, gratitude, admiration, love. This is where the discussions begin. You can read their faces, imagine how they feel and understand why.
The third graders feel Goose's dismay when Bear is kicked out by Little Fox. They may have experienced or caused this themselves. A kindergarten student told his teacher, "I feel a bit like Bear today."
Children who soak up songs, rhymes and multisyllabic words, and those who can identify each dinosaur and digger, also deserve to have an emotional vocabulary.
Young lexivores, whether they are listening or reading, appreciate words that are stimulating, precise and fun to say.
These books end with words that I hope listeners will take to heart: "You are my splendid friend", "You are my treasure", "I am so glad you are back".
Talk about the inspiration behind your new picture book Zack and Ike are exactly alike. What is unique about this friendship story? Do Zack and Ike exist in real life?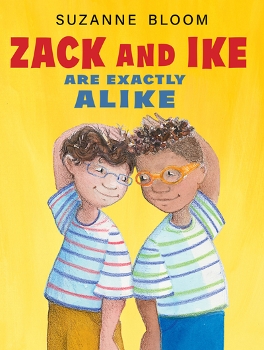 The title came first. It's so absolute it can't be true. And yet, the attributes they share form the basis of a beautiful friendship that withstands small disagreements and sees them through the next challenge together. Boys are able to show a range of emotions. They are by turns tough, tender, daring and curious.
In over thirty years of visiting schools, I've seen so many real, serious buddies like Zack and Ike. As in the previous books, my sons, when they were young, were the touchstone of their antics.
Zena Lola-Jo Lee, however, is based on one particular girl whose stunning ensemble stayed with me for years until I found her a place with Zack and Ike. I hope the readers will decide for themselves if she is exactly different from the boys or exactly the same. And does it matter?
A splendid friend indeedthe first book in the charming Goose and Bear series, received the first Theodor Seuss Geisel Award in 2006. What do you think makes a great picture book for young children?
According to my 3-year-old grandfather, if it's okay vroom and shows wheels, it's a winner.
For me, the magic is in images that offer moments of truth through gesture, facial expression and eye contact. And some color combinations make me swoon.
I want flowing sentences and carefully chosen words that stick in the imagination because they're fun to say; to like bamboozle, occasionallyand gorgeous.
Whether silent or wordy, a book is a love letter, and its images are a portfolio. A book has the power to expand and enrich a child's world.
But the real magic is when reader and listener choose a book over and over again, affirming their affection for the story and for each other.
SPONSORED BY